Guided river wading trips on the Roaring Fork or Frying Pan rivers are an exciting way to experience fly fishing here in the Roaring Fork Valley.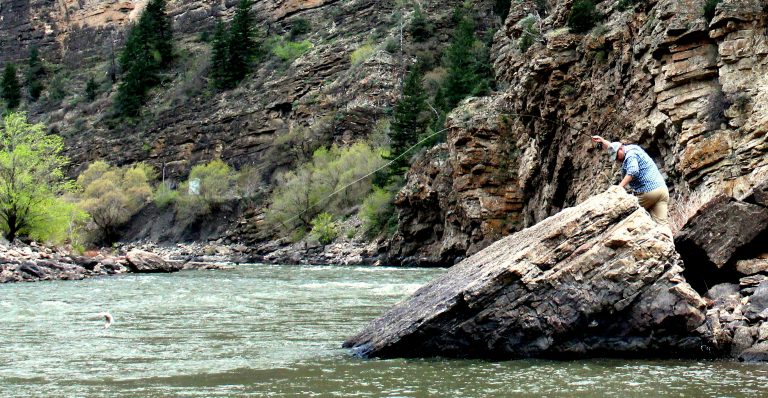 Guided Wade Fly Fishing
Guided wade trips give you the opportunity to really work a piece of water and use all of your senses to target and land specific fish. The Aspen Flyfishing guides are the best in the business and highly experienced on the rivers we fish. Give us a call for the most memorable Colorado fly fishing trip around. We are conveniently located in Aspen Colorado for all of your Aspen fly fishing needs.
Your Colorado fly fishing guide will custom tailor your fly fishing trip based on your individual experience level and needs. Colorado wade fishing trips can be a half-day (4 hours) or a full-day (approximately 7 hours of fishing with a lunch break) in duration.
Our wade fishing trips can also be customized to meet your time needs. We recommend a maximum ratio of two guests per fly fishing guide but we can accommodate up to three per guide on our half day fly fishing trips.

Half Day: 1 Angler $375 (one rod), 2 Anglers $475 (two rods), 3 Anglers $650 (three rods)
Full Day: 1 Angler $575 (one rod), 2 Anglers $675 (two rods) – Lunch Included on Full Days

Operating under special use permit from the USDA Forest Service, White River National Forest – Outfitter #738 Donald J Delise. Equal opportunity service provider and employer.